Tree Services
At JLG Tree Service, proudly serve residential and business property owners in and around Anaheim, CA, with a comprehensive range of tree services. Our dedicated team of certified arborists is committed to delivering reliable, safe, and timely solutions for all your tree-related needs. Whether it's precision tree trimming, professional tree removal, stump grinding, or expert tree care, we bring unparalleled expertise to every project. Our company is built on a foundation of excellence, where customer satisfaction is paramount. We understand the value of well-maintained trees in enhancing your property's beauty, safety, and curb appeal. With a focus on cost-effective solutions, we ensure you receive exceptional service without breaking the bank. When you hire us for your tree service requirements, you will experience the difference of working with a team passionate about preserving and enhancing the natural beauty of your outdoor spaces. We offer various services under a single roof, so you get the convenience you need when handling these tasks.
Tree Trimming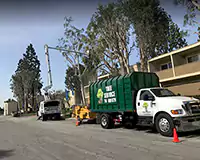 Our tree trimming services are key to maintaining a vibrant and healthy outdoor space. Tree trimming becomes essential when branches encroach on your property, pose safety risks, or hinder the aesthetics of your landscape. Our approach is efficient, certified, and cost-effective, and we trim your trees perfectly. We prioritize the well-being of your trees, focusing on their health, safety, and appearance. With our skilled crew and state-of-the-art equipment, we guarantee precision in every cut. Our professional team values the vitality and beauty of your trees, and we work systematically to ensure that your trees are well-manicured and healthy. Our tailored tree trimming solutions will elevate your outdoor oasis, ensuring your trees thrive and enhance the overall appeal of your property. Our company can handle large-scale projects on commercial premises with the same levels of efficiency and professionalism as residential ones. Read More About Tree Trimming >>
Tree Removal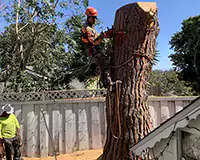 We provide safe and professional tree removal solutions backed by over a decade of industry experience. Our certified team prioritizes customer satisfaction through personalized attention to your unique needs. Our expertise extends to handling all types of hazardous tree removals, ensuring your property is secure and prepared for development or any other purpose. We understand the importance of a thorough and safe tree removal process and employ the latest techniques and equipment to achieve exceptional results. Our team is committed to excellence, safety, and delivering tailored solutions. Our personalized approach ensures that every tree removal project is executed with precision, enhancing the aesthetics and security of your outdoor space. We prioritize offering all our clients a seamless and professional tree removal experience that exceeds your expectations. Since we are local to your area, you can rely on us to be at your location quickly and handle the tree removal efficiently. Read More About Tree Removal >>
Stump Removal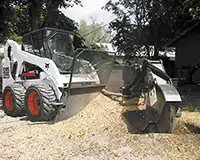 We deliver quick and efficient stump removal solutions to residential and commercial clients. Our commitment to excellence is reflected in our utilization of the latest equipment and a highly trained crew, ensuring that every stump removal project is executed with precision and professionalism. We understand that customer satisfaction is paramount, and our focus is unwavering on delivering results that meet and exceed expectations. Our stump removal services are not only cost-effective but also comprehensive. We remove stumps and cart away all wood chips and debris, leaving your property safe and ready for use. You can trust us to transform your outdoor spaces seamlessly by eradicating unsightly stumps, enhancing safety, and maximizing the aesthetic appeal of your property. Our dedication to efficiency, safety, and client satisfaction sets us apart as the go-to choice for stump removal services. Our company has a large local customer base, and we are known for our affordable and professional services. Read More About Stump Removal >>
Tree Cutting Services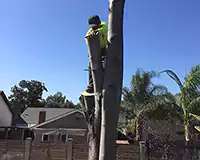 Our specialized tree-cutting services are backed by over a decade of experience, ensuring our clients receive top-tier solutions. Our expertise extends beyond routine tree services, encompassing the safe and efficient handling of hazardous trees. Our company handles tree cutting, pruning, removal, or any other arboricultural need and our skilled team is committed to excellence. We recognize the unique challenges of hazardous trees, and our certified crew is well-equipped to assess, manage, and safely remove them. Our specialized tree-cutting services are designed to enhance your outdoor space's safety and aesthetics, catering to our valued clients' diverse needs. We have decades of experience in handling all types of tree service requirements. We have an unwavering commitment to professionalism and customer satisfaction; you will experience this in every interaction with us. We take pride in our ability to deliver expert solutions that prioritize the health and beauty of your landscape. Read More About Tree Cutting Services >>
Bobcat Services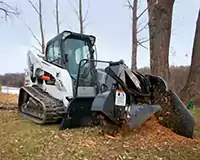 Our Bobcat services are tailored to remove various materials safely and efficiently, including concrete, hazardous or combustible vegetation, invasive weeds, noxious brush, and debris. We cater to a diverse clientele, offering our expertise to hillsides, vacant lots, new construction sites, and residential properties. At our company, safety is our top priority. Our certified crew operates precisely and adheres to strict safety protocols to ensure a secure working environment. We understand the importance of timely and affordable solutions and are committed to delivering just that without compromising professionalism. With our Bobcat services, you can trust us to handle your project with the expertise it deserves. Our commitment to excellence is evident in every job we undertake. When you work with us, you will immediately notice that we value safety, professionalism, and affordability. We ensure your project is executed seamlessly and to your complete satisfaction and that you get value for money. Read More About Bobcat Services >>
Concrete Removal Services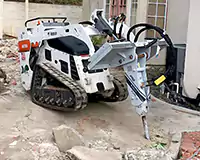 We offer expert and cost-effective concrete removals for projects of all sizes. If you have a small-scale job or a substantial undertaking, we have heavy-duty equipment and a skilled crew to handle it precisely and efficiently. Our concrete removal services are designed to clear all types of concrete, ensuring that your property is primed and ready for use or development. We understand the importance of a clean slate when embarking on a new project, and our commitment to excellence ensures that we safely manage every concrete removal job. When you hire us, you can expect efficient concrete removal completed with attention to detail and adherence to safety protocols. We pride ourselves on being the go-to choice for property owners looking to transform their spaces. Entrust your concrete removal needs to us and gain the peace of mind that comes with working with experts who deliver results you can rely on. Read More About Concrete Removal Services >>
Weed Management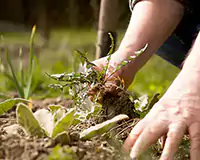 Weeds can be a persistent menace, wreaking havoc on your landscape, compromising its beauty, and competing for vital resources. At JLG Tree Service, we understand weeds' detrimental impact on your property, and we're here to provide a solution. Our professional weed management services are designed to eradicate all types of weeds from your property- we can handle jobs in a cozy residential yard, a carefully tended garden, or a vast commercial landscape. We bring professionalism, efficiency, and unwavering commitment to every weed management project. Our experienced team employs effective weed control methods, ensuring that your landscape remains weed-free and pristine. We prioritize the health and aesthetics of your outdoor space, guaranteeing that it thrives without the burden of invasive weeds. With us, you will experience the difference of working with a team dedicated to restoring your landscape's beauty and vitality, leaving it weed-free and thriving. We can offer scheduled weed inspection and management solutions. Read More About Weed Management >>
Site Cleanup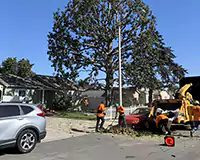 We offer efficient and speedy site cleanup services, prioritizing safety, quality, and cost-effectiveness. Our experienced crew is dedicated to ensuring a thorough cleanup process without compromising. Whether it's debris removal, stump grinding waste cleanup, or post-tree removal site clearing, we have the expertise to do the job right. Our commitment to safety is unwavering, and we take every precaution to protect your property and any existing features. We understand that site cleanup is a critical component of tree and land management, and we execute it meticulously to leave your space immaculate. Our team is well-equipped, highly skilled, and dedicated to delivering the highest quality site cleanup services. Trust us to restore your outdoor space efficiently. We ensure there is no damage to other features and leave it in a pristine condition that exceeds your expectations. We work on all site cleanup jobs for residential and commercial clients. Read More About Site Cleanup >>
If you're searching for safe and professional tree removal, stump removal, bobcat services, or any other arboricultural solutions, don't hesitate to contact us. Our dedicated team is here to provide all the information you need to make informed decisions about your tree care needs. We are deeply committed to delivering the best service and ensuring the best experience for our valued clients. No matter the size or complexity of the job, we have the expertise and equipment to handle it efficiently and safely. If you're a residential property owner looking to enhance the beauty and safety of your outdoor space or a business owner needing expert tree care, we have you covered. No job is too big or small for us, and we offer value every single time. Contact JLG Tree Service today at 714-770-1850 / 951-741-7189, or you can conveniently connect with us through our Online Form.
JLG Provides Expert & Professional Tree Service Throughout all of OC: