About JLG Tree Services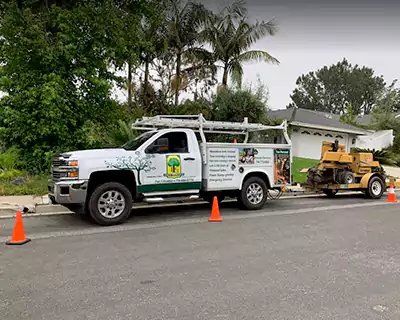 Specialties
JLG Tree Service is Orange County's best choice for high-quality tree services. Our owner is a second-generation tree trimmer with over 17 years of experience and 1,500s of successfully completed commercial and residential jobs. Whether you need tree trimming for your home in Anaheim Hills, hazardous tree removal for a new construction site in Tustin, or stump removal and grinding services in Fullerton, we have the experience and equipment necessary to get the job done safely and effectively. Our complete range of tree trimming services includes tree pruning, branch removal, crown shaping, palm tree trimming, and palm frond/seed removal, and our tree cutting services include tree and stump removal and grinding. In addition to our expert tree trimming and cutting services, we also provide vegetation and weed abatement and Bobcat services, such as concrete removal and hauling. Our tree care specialists have the skills, safety equipment, and expertise necessary to handle jobs of all sizes. We are dedicated to delivering superior customer service and quality workmanship at competitive rates. Our customers can trust that we will arrive on time, accurately diagnose the health of all trees on their property, and provide an honestly written quote. We offer fast, responsive tree services to homeowners and businesses throughout Orange County. Call (714) 770-1850 to schedule your FREE estimate and onsite consultation today.
History
Established in 2006.
For the best value in safe and affordable tree service in Orange County, call JLG Tree Service. We are a fully licensed tree service company specializing in residential and commercial tree trimming, pruning, branch removal, crown shaping, stump removal, and more. Our owner, Jose Guerrero, is a second-generation tree trimming expert with over a decade of hands-on experience and thousands of clients served. Our customers can rely on every owner-supervised job to be completed using the industry's best practices. As a locally-owned company based in Anaheim, California, our tree care experts are extremely knowledgeable about local tree species. We can handle everything from hazardous tree removal in Orange to palm tree skinning in San Clemente. In addition to our high-quality tree services, we also offer weed abatement solutions, hillside clearing, concrete removal, and Bobcat hauling services to clients throughout Fullerton, Anaheim Hills, and nearby areas. Call (714) 770-1850 today!
Meet the Business Owner
Jose G.
Jose is a second-generation tree service expert and an Orange County native. He has over a decade of experience, has completed 1000s of jobs, and grew up working in the landscaping industry with his father. He is proud to offer superior customer service and satisfaction to clients in Orange, Fullerton, Irvine, San Clemente, and nearby Orange County cities.
Tree Trimming in OC and Surrounding Counties
Based in Anaheim, California, you can trust that JLG Tree Service is highly knowledgeable of local tree species found throughout Orange County. We understand that each type of tree requires tree care and maintenance techniques unique to its species, which is why we always recommend scheduling a free onsite consultation. We will arrive on time to assess your property, accurately diagnose the health of your trees, develop a thorough plan to meet your tree service needs, and provide an honestly written quote.
Fully licensed Tree Service Company Serving Anaheim, Orange, and Surrounding Areas
Our comprehensive tree maintenance, tree removal, and Bobcat services include:
Tree trimming
Vista & structural pruning
Branch removal
Tree & crown shaping
Crown raising and thinning
Palm tree trimming & skinning
Palm frond & seed pod removal
Diseased & hazardous tree removal
Stump removal & grinding
Vegetation management
Weed abatement
Brush clearing
Concrete removal
Bobcat services & hauling
JLG Provides Expert Tree Services Throughout all of Orange County
With a well-trained team and a broad range of tree service equipment and trucks, we are fully equipped to handle residential and commercial jobs of any size. Whether you need palm tree trimming in Costa Mesa, brush clearing in Anaheim, or concrete removal and hauling for a new construction site in Fullerton, JLG Tree Service will get the job done, safely, reliably, and within budget. Call (714) 770-1850 to schedule your free estimate today. We will travel anywhere in Orange County, including Fullerton, Orange, Tustin, Irvine, and surrounding areas.
JLG Provides Expert & Professional Tree Service Throughout all of OC: